With democracy hanging in the balance worldwide, an increasing number of people worry about their personal freedoms and rights. To give them a warm home where they can exchange about their hopes and fears, their plans and actions, Defend Democracy started organising monthly Democracy Drinks in Brussels (Belgium), the heart of the European Union.
The Democracy Drinks are so successful, that we decided to expand them to other countries. On 17 May 2019 they launched in Berlin (Germany). And as several other countries have already expressed an interest in hosting them too, we gave the Democracy Drinks a dedicated website and social media channels: DemocracyDrinks.org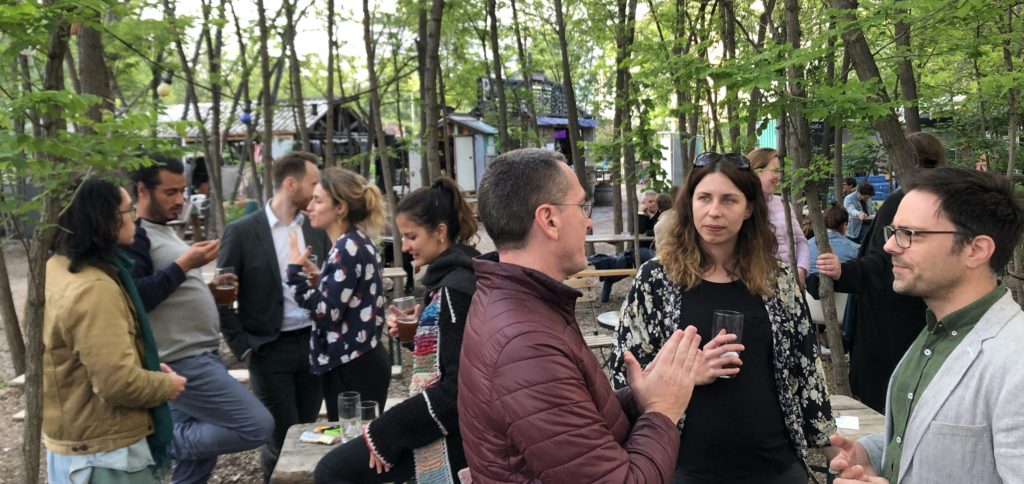 In Brussels, the informal networking drinks attract a lively mixture of people from NGOs, EU institutions, think tanks, embassies and national representations, academia, EU affairs consultancies, social businesses and other active citizens. We have had special guests, passionate speeches, a special European elections edition with movie and debate at the European Parliament, visitors from Poland, Hungary, Austria, UK, Serbia, Turkey and even Nepal.
Democracy Drinks are a great way of making new contacts and catching up with people you know; for testing ideas and planning actions; for moral support and inspiration. Attendees say it's "a good concept and fun format". People are free to invite friends and colleagues that work on or are interested in defending values like democracy, rule of law, human rights… They just come along and are made to feel welcome.
"Inspired by meetings with concerned citizens and grass roots activists in the USA, I thought: why not try and apply the 'Green Drinks' concept to democracy? Since we started hosting them in October 2018, the Democracy Drinks have surpassed my wildest hopes. It's heartwarming to help connect passionate people and organisations, and to grow and support communities of democracy defenders." Alice Stollmeyer, Executive Director of Defend Democracy
"We are excited to lead the first Democracy Drinks outside of Brussels. As Berlin is one of the leading European cities when it comes to activism and human rights, we believe this initiative is an amazing way we can give human rights supporters an inspiring space to connect and exchange experiences." Balazs Denes, Executive Director of Liberties
Stay tuned for more countries hosting monthly Democracy Drinks at: democracydrinks.org. [Update: meanwhile there are Democracy Drinks in Washington DC too.] As we are working on launching Democracy Drinks in ever more cities, ultimately you will be able to join us wherever you are!