Help us defend democracy by supporting us.
At Defend Democracy we are working day and night to defend and strengthen democracy against foreign, domestic and technological threats. We can't do this without generous support from people like you, who care about democracy.
Please consider supporting our nonpartisan work and help us defend democracy.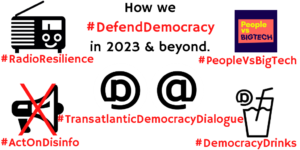 Pick the frequency of your support in the first box of the form below
Leave your name and email address to receive a confirmation
Pick or create an amount*
Chose your payment method
Accept our privacy policy to enable your payment
For recurring donations, tick both boxes ('I authorise…' and 'I agree…')
Confirm by clicking the blue 'DONATE' button
*For large support from donors in the United States and in 19 EU countries, it may be worth exploring how to support us tax-deductible. In the Netherlands, your donations to us can be deducted from your income tax.
Contribute here to help defend democracy. Our work depends on you.
Want to help defend democracy with more than money? Here's how to get involved.